【Energy Saving】Dosing & Mixing Section
Views:22 Author:Site Editor Publish Time: 2020-05-11 Origin:Site
Pouring Mixer
The equipment introducted in this article plays an important role in Autoclaved Aerated Concrete Produciton.
As the core equipment of AAC block/panel production line, the pouring mixer has a crucial impact on the AAC production efficiency, energy efficiency saving and final products quality.

It is widely shared that the main type pouring mixer of AAC plant in market can meet the mixing demand of different raw materials, however, the energy consumption is high because the power of the whole machine is always higher than 75kw. For the sake of reducing the energy consumption, KEDA SUREMAKER has studied the characteristics and advantages of various mixing structure combinations existed in the AAC industry, then inclines to the mixing structure of " double cross paddle & modular draft tube " (as shown in figure 2).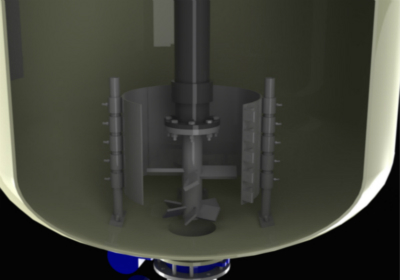 The analysis of design parameters through finite element analysis tool proves that this mixing structure can ensure the high efficiency mixing of different kinds of raw material (as shown in figure 3.4). Compared with other pouring mixer, this mixer can reduce the power to 45KW through optimizing the fluid movement circuit during different raw materials mixing process, which meets the growing demands for energy-saving and also ensures the mixing effect.
| | |
| --- | --- |
| Figure 3. Phase distribution Source: Software design | Figure 4. Fluid velocity distribution Source: Software design |